Before I continue the story of America's involvement in (and transformation of) The Republic of South Korea, I thought it might be in order to remind you of what we have done thus far on our Around the World in 80 Days journey and why we are doing it. I will make this brief because the next three pieces we have lined-up for you on South Korea, titled "Band of Brothers are long and emotionally powerful narratives. Each installment reflects a lot of research, and the ultimate point of the "Band of Brothers" series within the ATW80+ series is, I think, a very important one and a very personal one for me as shall be revealed.
But about the ATW80+ project. Someone just joining us might think: "He's going around the world in 80 days? Literally? WTH?"
The fact is, it has been much more than 80 days. Avid readers of this blog will know that the narrative is even more complicated than a "simple" 80-day circumnavigation of the earth. A summary might look like this:
* My youngest son, Zachary, and I went around the world in exactly 80 days, hitting 6 of 7 continents and these countries:
New Zealand
Australia
Japan/Okinawa
Hong Kong (China)
Singapore
India
Russia
Britain
Nigeria
South Africa
Brazil
Argentina
Uruguay
Chile
Peru
Norway
Sweden
Switzerland
Italy
France
The United States
*  Then, before I returned to America, with my life looking up and moving forward productively, I was blindsided. This time the car was figurative rather than literal. If I were a worshiper of Allah there would be little reason for hope. But the God of the Bible is of a very different character: "If you, Lord, kept a record of sins, who could stand?" (Psalm 130:3)
* I stepped away from public life for more than a year to pick up the pieces and to rebuild. And I literally set to work building something very special. Lauri and I look forward to revealing it to you at the appropriate time.
* Having recovered our balance, I resumed the around the world initiative earlier this month, adding the "+" to the ATW80 to indicate that it has been much more than 80 days since we started!
* So, the first circumnavigation of the world was abbreviated as "ATW80." This second circumnavigation is abbreviated as "ATW80+."
In case any of this is not clear, I have diagramed it for you on a bar napkin as I sit here on the far side of the planet: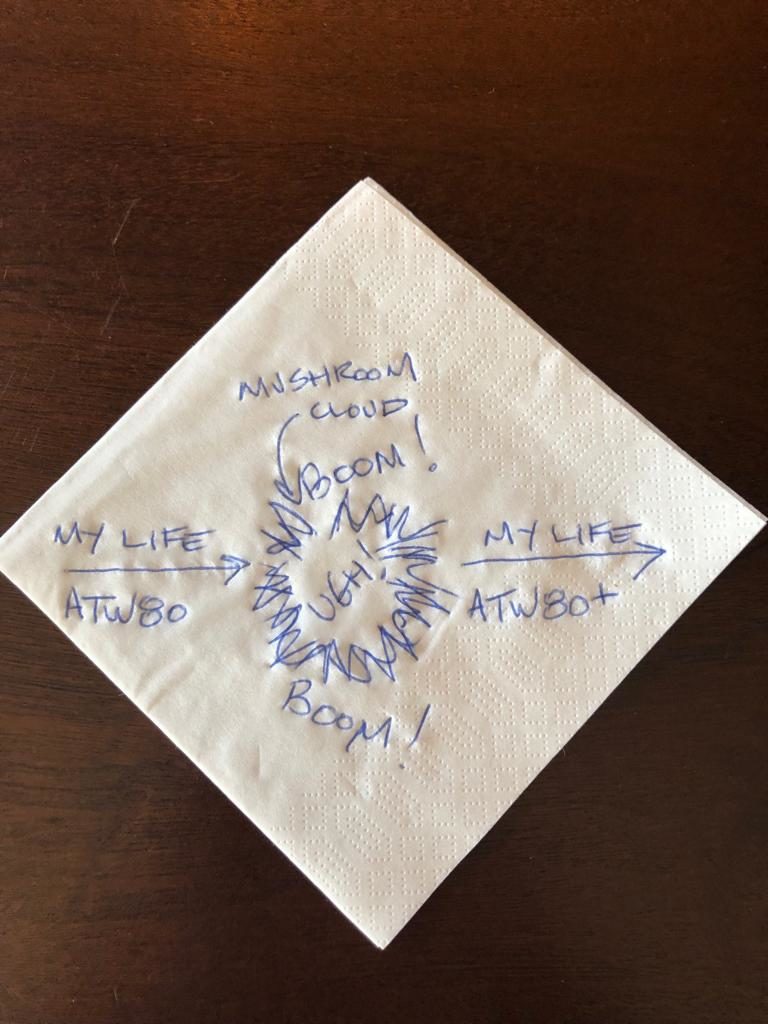 (The bartender graciously supplied me with the napkin and pen. She's heard a lot of sob stories, I'm sure, but she appreciated the visual nature of this one. She also keeps feeding me the most wonderful cheese that she seems to produce magically.)
So far, on this second circumnavigation I have been to South Korea. But several more countries will follow as we continue our trek. Boy, do I have some stories to tell.
So why do this trip?
When we started this two years ago, I laid out the objectives here.
Incidentally, you can read my latest published articles on my time along the Korean DMZ. One for Fox News and the other for The American Spectator. If you read this blog, the material in both of those pieces will be familiar to you.